About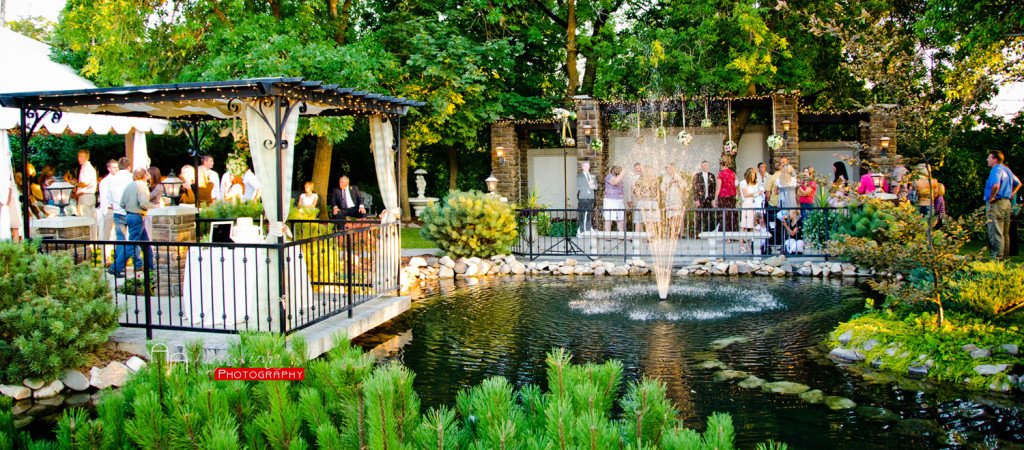 About Lomond View Gardens
Lomond View Gardens opened as an outdoor gardens venue in June of 2003 in beautiful Pleasant View, Utah. We are a family owned business.  Our business did not begin as a reception center, but as three small business ventures under one roof: a nursery garden center, landscape design and home design businesses.
In an effort to display our wide variety of plants, trees and flowers and the talents of our landscapers, we sculpted our own grounds into a showroom, where our customers could see their ideas for their own yards come to life. They were able to see how they could incorporate water features and pathways at their own homes.
Wedding Venue
We were pleased with our creation, and we found that our customers were equally as pleased. People began asking if we hosted weddings because of the beautiful backdrop. It was in the fall of 2002 that the family decided to landscape a larger area where weddings could be held. Because of a mild winter, we had the opportunity to design and implement our vision. On June 25, 2003 we held our first wedding reception. I still remember the night before the wedding. We were finishing the last of the night lighting when the bride's mother stopped by after the rehearsal dinner to see how things were progressing. We walked around the grounds together looking at the lights, and she stopped and said, "I feel like I am giving her a million dollar wedding." For me, hearing those words made all of the hard work leading up to that moment worth it.
Added Features
Since then we have continually added features to the grounds, and in the fall of 2010 we built a beautiful indoor venue. We have hosted hundreds of weddings and receptions since that first wedding in June 2003.  We recognize that your wedding day is one of the most important days of your life and that is why we are committed to making your special day memorable. With our breathtaking location at the foot of majestic Ben Lomond Mountain and our garden surroundings, your dreams become reality. Discover all the possibilities. We offer an inspiring ballroom setting and a stunning outdoor garden wedding venue.
The bride and groom will appreciate the many photo opportunities available at Lomond View Gardens, including landscaped pathways, iron bridges, rocked columns, a fountain, a waterfall, and romantic night lighting. Perfect for destination or local weddings, or the joyful events that surround them. We are happy to host bridal showers, rehearsal dinners, receptions, corporate events, and brunches.
We may be contacted by email or phone. We would love to hear from you. We are located at 304 W Pleasant View Dr., Pleasant View, Utah across from The Barn Golf Course.